Technology overview
LAGA Sports utilizes a collection of the most modern and advanced technologies to deliver the highest quality teamwear while allowing for extensive customization of individual jerseys.
Benefits of our teamwear
›› Completely custom made to order product in quantites to support individual players, teams or associations with thousands of players
›› Product delivery on industry leading timelines (team orders ship in 4 weeks)
›› Premium quality fabric, our jerseys are made from the highest quality material that was designed and developed for competitve hockey
›› LAGA Sports jerseys do not crack, peel or fade, see more below in Heat Transfer section
›› Ease of care our team wear can be washed in regular washing machines and even tumbled dry
Custom Software
LAGA Sports has developed a collection of software that enables our customers to create jerseys and designs that are unique to each player, team, league or association. Inspired by elements and different cultures surrounding us, each design in the team shop is a LAGA Sports original. Choose from one of our designs that best suits your team. Then elevate the design with your team colors, pick one of our logos or upload your own artwork.
Digital Printing
LAGA Sports invested in high-precision digital plotters employed for the production of your order. These plotters deliver uniform ink distribution on the plotted area, which begin the transformation of the design concept into a real product – your jersey.
The image below shows the depth of detail and briliance of colors.



Heat Transfer
The jersey material used was designed specifically for our production environment. High heat resistance means not only the transfer looks exactly as it is intended but also allows great flexibility in garment care - common washers and dryers can be used. The material used to produce your jersey also has superior strength properties; in fact the material is designed to stretch minimum 140% horizontally and 70% vertically.

Our high heat transfer process handles the imprinting of the custom designs into the jersey material. The resulting image is permanently embedded into the grains of the fabric. Without destroying the fabric it is impossible to remove the imprint. There is no difference in how the fabric feels to the touch over design. The final design and colors will not to fade, crack, shrink or peel.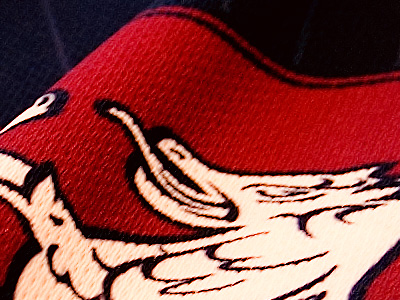 Professional tailoring
During the final stage of production your jerseys will be sewn by a team of professionals highly experienced not only in team wear production but also all types of tailoring and alterations.